Open Spelter Sockets

Printer-friendly version

PDF version
 IMPORTED AND DOMESTIC SPELTER WIRE ROPE SOCKETS
Caution: When attaching spelter sockets to wire rope it is extremely important to follow recommended procedures, such as outlined by the Wire Rope Technical Board. Proper brooming and cleaning of wire rope is important. If resin is used, follow resin manufacturer's specific installation instructions.
OPEN SPELTER SOCKETS
Hot galvanized. Forged sockets through 1.1/2". Alloy cast steel 1.5/8" and larger.
5/16"-2.1/2" according to Federal Specification RR-S-550D. Amendment 1.
Efficiency of spelter terminations: 100% of the catalog breaking strength of wire rope. These drawings illustrate one groove used on sockets 1/2" & smaller. Sizes 9/16"-1.1/2" have two grooves. Sizes 1.3/4" & larger have three grooves.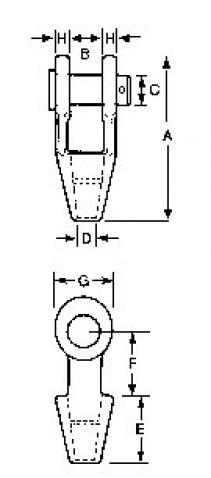 | Size | A | B | C | D | E | F | G | H | Wt. ea. in lbs. |
| --- | --- | --- | --- | --- | --- | --- | --- | --- | --- |
| 5/16"-3/8" | 4.88 | .81 | .81 | .50 | 2.25 | 1.75 | 1.50 | .44 | 1.3 |
| 7/16"-1/2" | 5.56 | 1.00 | 1.00 | .56 | 2.50 | 2.00 | 1.88 | .50 | 2.3 |
| 9/16"-5/8" | 6.75 | 1.25 | 1.19 | .69 | 3.00 | 2.50 | 2.25 | .56 | 3.8 |
| 3/4" | 7.94 | 1.50 | 1.38 | .81 | 3.50 | 3.00 | 2.63 | .63 | 6.0 |
| 7/8" | 9.25 | 1.75 | 1.63 | .94 | 4.00 | 3.50 | 3.13 | .75 | 10.0 |
| 1" | 10.56 | 2.00 | 2.00 | 1.13 | 4.50 | 4.00 | 3.75 | .88 | 15.5 |
| 1.1/8" | 11.81 | 2.25 | 2.25 | 1.25 | 5.00 | 4.50 | 4.13 | 1.00 | 22.0 |
| 1.1/4"-1.3/8" | 13.19 | 2.50 | 2.50 | 1.50 | 5.50 | 5.00 | 4.75 | 1.13 | 32.0 |
| 1/1/2" | 15.13 | 3.00 | 2.75 | 1.63 | 6.00 | 6.00 | 5.38 | 1.19 | 46.0 |
| 1.5/8" | 16.25 | 3.00 | 3.00 | 1.75 | 6.50 | 6.50 | 5.75 | 1.31 | 55.0 |
| 1.3/4"-1.7/8" | 18.25 | 3.50 | 3.50 | 2.00 | 7.50 | 7.00 | 6.50 | 1.56 | 85.0 |
| 2"-2.1/8" | 21.50 | 4.00 | 3.75 | 2.25 | 8.50 | 9.00 | 7.00 | 1.81 | 125.0 |
| 2/1/4"-2.3/8" | 23.50 | 4.50 | 4.25 | 2.50 | 9.00 | 10.00 | 7.75 | 2.13 | 165.0 |
| 2.1/2"-2.5/8" | 25.50 | 5.00 | 4.75 | 2.88 | 9.75 | 10.75 | 8.50 | 2.38 | 252.0 |
| 2.3/4"-2.7/8" | 27.25 | 5.25 | 5.00 | 3.13 | 11.00 | 11.00 | 9.00 | 2.88 | 315.0 |
| 3"-3.1/8" | 29.00 | 5.75 | 5.25 | 3.38 | 12.00 | 11.25 | 9.50 | 3.00 | 380.0 |