Stainless Shoulder Nut Eye Bolts - Type 316 With Heavy Hex Nut

Printer-friendly version

PDF version

CAUTION: NEVER  EXCEED THE WORKING LOAD LIMIT.
Never insert the point of a hook in an eyebolt.
Always use a shackle.
WARNING:
*Working Load Limit applies to straight line pull only. When applying load at an angle, the Working Load Limit is drastically reduced. Refer to Standard Rigging Handbook for reductions in Working Load Limit of shoulder pattern eyebolts for angular lifting. Above ratings apply only when the shoulder is in full contact with the mating part of the load and the load is applied in the plane of the eye (see illustration below).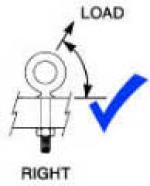 | Size Dia.(A) x Shank(B) | Working Load Limit in lbs. | Approx. Wt. ea. in lbs | C | D | E |
| --- | --- | --- | --- | --- | --- |
| 1/4" x 2" | 460 | .08 | 1.50 | .50 | .88 |
| 1/4" x 4" | 460 | .10 | 2.50 | .50 | .88 |
| 5/16" x 2.1/4" | 780 | .11 | 1.50 | .63 | 1.13 |
| 5/16" x 4.1/4" | 780 | .14 | 2.50 | .63 | 1.13 |
| 3/8" x 2.1/2" | 1,160 | .19 | 1.50 | .75 | 1.38 |
| 3/8" x 4.1/2" | 1,160 | .24 | 2.50 | .75 | 1.38 |
| 1/2" x 3.1/4" | 2,150 | .42 | 1.50 | 1.00 | 1.75 |
| 1/2" x 6" | 2,150 | .56 | 3.00 | 1.00 | 1.75 |
| 5/8" x 4" | 3,440 | .78 | 2.00 | 1.25 | 2.25 |