Oblong Master Links, Alloy - (Grade 80)

Printer-friendly version

PDF version
ALL OBLONG MASTER LINKS ARE INDIVIDUALLY PROOF TESTED TO TWO TIMES THE HIGHER OF THE MAXIMUM WORKING LOAD LIMITS LISTED FOR THAT SIZE. - AS A MINIMUM.
ALL OBLONG MASTER LINKS MEET THE REQUIREMENTS OF A.S.T.M. A952 - STANDARD SPECIFICATION FOR FORGED GRADE 80 ALLOY STEEL LIFTING COMPONENTS AND WELDED ATTACHMENT LINKS AND THE MECHANICAL REQUIREMENTS OF A.S.T.M. 906, STANDARD SPECIFICATION FOR ALLOY STEEL CHAIN SLINGS FOR OVERHEAD LIFTING - AS APPLICABLE.
OBLONG MASTER LINKS, ALLOY - (GRADE 80)  Per A.S.T.M. A952/A906.  Welded, painted
CAUTION: NEVER EXCEED THE WORKING LOAD LIMIT.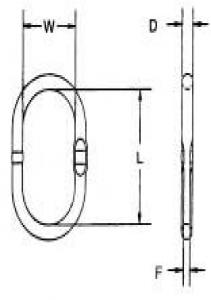 Sizes 1.1/2" and Larger - DOMESTIC
| -D- Dia. inches | Max W.L.L. lbs.(Chain Slings) | Max W.L.L. lbs.(Wire Rope Slings) | -W- Width | -F- Flat | -L- Length | Approx. Wt. ea. lbs. |
| --- | --- | --- | --- | --- | --- | --- |
| 1/2" | 6,100 | 4,920 | 2.3/4 | 9/32 | 4.3/4 | .97 |
| 5/8" | 7,750 | 6,600 | 3 | 9/32 | 5.1/2 | 1.45 |
| 3/4" | 12,300 | 10,320 | 3.3/4 | 7/16 | 6.1/4 | 2.64 |
| 1" | 20,800 | 24,380 | 4.5/8 | 1/2 | 7.12 | 5.57 |
| 1.1/4" | 31,300 | 35,160 | 5.1/8 | 5/8 | 9 | 10.38 |
| -D- Dia. inches | Max W.L.L. lbs.(Chain Slings) | Max W.L.L. lbs.(Wire Rope Slings) | -W- Width | | -L- Length | Approx. Wt. ea. lbs. |
| --- | --- | --- | --- | --- | --- | --- |
| 1.1/2" | 49,000 | 47,880 | 5.1/4 | | 10.5 | 16.5 |
| 1.3/4" | 73,500 | 62,520 | 6.0 | | 12.0 | 24.8 |
| 2" | 88,900 | 97,680 | 7.0 | | 14.0 | 37.6 |
| 2.1/4" | 125,200 | 119,400 | 8.0 | | 16.0 | 54.3 |
| 2.1/2" | 169,400 | 147,300 | 8.0 | | 16.0 | 68.0 |
| 2.3/4" | 187,800 | 178,200 | 9.0 | | 16.0 | 85.6 |
| 3" | 228,000 | 228,000 | 10.0 | | 19.0 | 136.0 |
| 3.1/2" | 279,000 | 279,000 | 12.0 | | 24.0 | 228.0 |