Grade 80 Coupling Link

Printer-friendly version

PDF version
To assemble:
1. Put two halves of coupling link together as shown.
2. Put locking spacer between halves, line up with holes in coupling link.
3. Drive pin through holes in coupling link and locking spacer until flush with outside of coupling link
GRADE 80 ALLOY FITTINGS
GRADE 80 COUPLING LINK
Forged alloy steel, heat treated. According to ASTM A952
Sizes 9/32", 3/8" through 1.1/4"
Also available in DOMESTIC.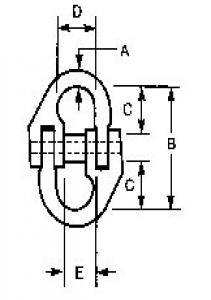 | Size | Work Load Limit in lbs | Approx. Wt. ea. in lbs. | A | B | C | D | E |
| --- | --- | --- | --- | --- | --- | --- | --- |
| 9/32" | 3,500 | .21 | .33 | 1.93 | .79 | .79 | .73 |
| 5/16" | 4,500 | .55 | .37 | 2.75 | 1.02 | .98 | .89 |
| 3/8" | 7,100 | .77 | .47 | 3.03 | 1.26 | 1.06 | .98 |
| 1/2" | 12,000 | 1.50 | .61 | 3.34 | 1.38 | 1.26 | 1.18 |
| 5/8" | 18,100 | 2.42 | .73 | 4.05 | 1.69 | 1.53 | 1.42 |
| 3/4" | 28,300 | 3.74 | .90 | 4.56 | 1.89 | 1.85 | 1.73 |
| 7/8" | 34,200 | 4.85 | 1.04 | 5.24 | 2.00 | 2.16 | 1.93 |
| 1" | 47,700 | 9.26 | 1.24 | 5.83 | 2.36 | 2.60 | 2.36 |