Eye Hooks

Printer-friendly version

PDF version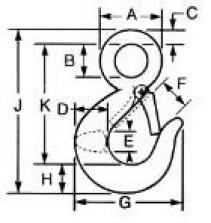 CAUTION: NEVER EXCEED THE WORKING LOAD LIMIT.
Carbon or alloy steel, forged, heat treated, painted, with latch installed or without.
Some sizes also available in DOMESTIC.
*Working Load Limit applies only when the load is applied to the center of the saddle of the hook.
**3/4, 1, 1.1/2 Ton Carbon Steel Hooks also available in Hot Galvanized.
| Size (WLL)* Carbon | Size (WLL)* Alloy | A | B | C | D | E | F | G | H | J | K | Approx. Wt. ea. w/Latch in lbs |
| --- | --- | --- | --- | --- | --- | --- | --- | --- | --- | --- | --- | --- |
| **3/4 Ton | 1 Ton | 1.50 | .75 | .38 | .88 | .63 | .94 | 2.88 | .75 | 4.38 | 3.25 | .60 |
| **1 | 1.1/2 | 1.75 | .88 | .44 | 1.00 | .69 | 1.06 | 3.13 | .81 | 4.88 | 3.63 | .82 |
| **1.1/2 | 2 | 2.00 | 1.13 | .44 | 1.19 | .81 | 1.06 | 3.50 | 1.00 | 5.50 | 4.13 | 1.44 |
| 2 | 3 | 2.38 | 1.25 | .59 | 1.38 | .94 | 1.22 | 3.94 | 1.19 | 6.31 | 4.56 | 1.94 |
| 3 | 5 | 3.00 | 1.56 | .69 | 1.63 | 1.19 | 1.50 | 5.00 | 1.50 | 7.94 | 5.75 | 3.94 |
| 5 | 7 | 3.81 | 2.00 | .88 | 2.06 | 1.50 | 1.88 | 6.25 | 1.75 | 10.00 | 7.38 | 7.75 |
| 7.1/2 | 11 | 4.69 | 2.44 | 1.13 | 2.63 | 1.63 | 2.25 | 7.56 | 2.25 | 12.44 | 9.06 | 15.4 |
| | 15 | 5.37 | 2.84 | 1.26 | 2.94 | 2.19 | 2.51 | 8.30 | 2.59 | 13.93 | 10.07 | 22.2 |
| | 22 | 6.64 | 3.50 | 1.58 | 3.50 | 2.69 | 3.30 | 10.3 | 3.00 | 17.08 | 12.50 | 37.6 |